Yes, you read that right. A local PR agency in Atlanta, GA hired a 4-month old kitten to lead the way for corporate responsibility.
At first we thought the story was a hoax, so we headed straight to the source for answers: the PR firm behind our brand, Alexis Chateau PR.
Rumors Confirmed
Founder and managing partner, Alexis Chateau, confirmed via email that the agency did in fact have a kitten on its payroll.
"It's not some random PR stunt," she wrote to us. "He really is in charge of handling our goodwill strategies, as we work to reach more animal rights organizations and non-profits."
Method Behind the Madness
Because who could say "no" to a young kitten, right? That would just be cruel. Yet according to the press release on the company's website, people do every day at animal shelters across America:
Black cats have the lowest adoption rates in shelters all around the US, and the highest kill-rates. We wanted to ensure at least one black cat escaped that fate, and hoped he might encourage other adopters to reconsider the shadow at the back of the cage.
The press release even included links to his Twitter and LinkedIn page. You won't find a more connected kitty than this one.
He's Not Alone
As unprecedented as this might seem, Shadow Chateau isn't the first cat to make it onto a company's payroll.
Bossy
In the summer of 2015, a startup in Bucharest hired a 9-month old kitten named Bossy to be its director of communications.
The move was likely a play on the company's name, which happened to be Catbox. Bossy reportedly beat out 700 candidates to win his coveted position.
Chomsky & Pirate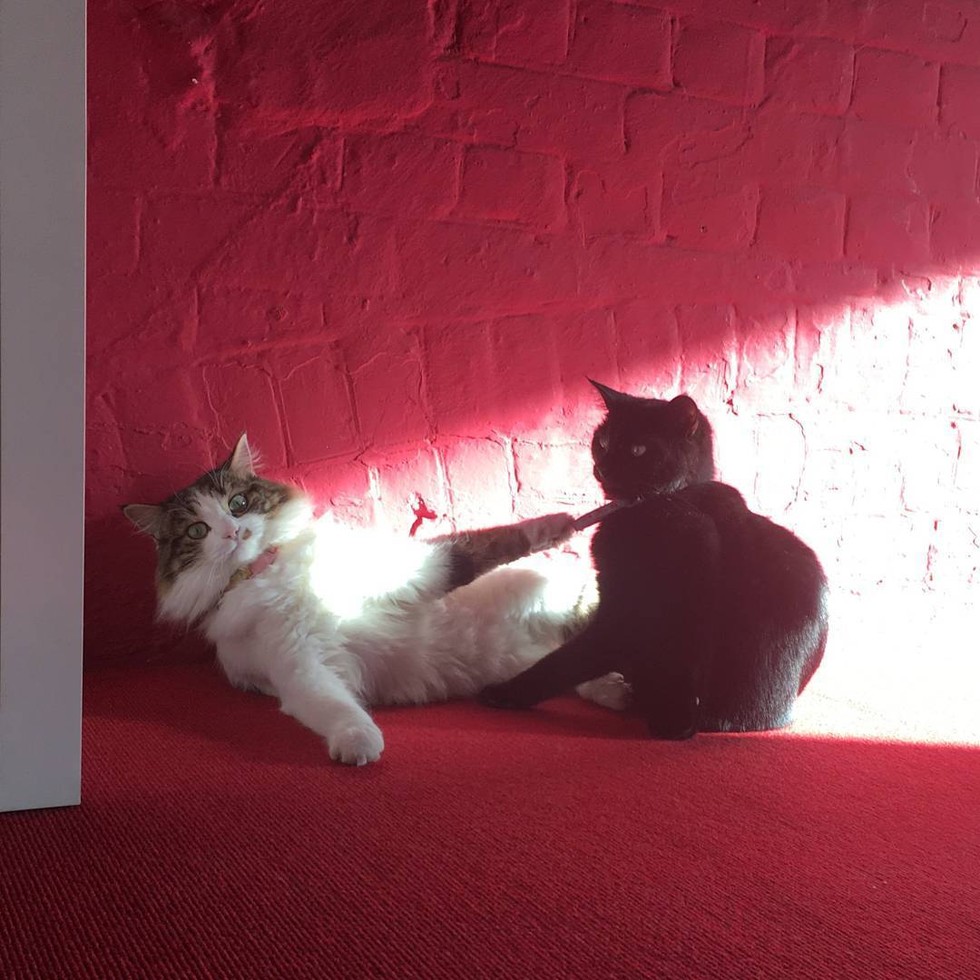 According to Love Meow, in 2015, a UK-based company named Memrise also hired two rescue cats. Why? To help their employees reduce stress and boost productivity.
The bow-tie wearing duo are inseparable and keep the employees entertained in their downtime.
Meet Shadow
So with all this evidence set before us, we decided to take Alex up on her offer and send Shadow an email.
He responded in no time with thanks for our congratulations. He then let us know he was more than willing to be interviewed for our piece.
We were shocked, to say the least, but jumped right into the questions. Is he really that handsome devil in his profile pictures? Shadow unabashedly admitted that he is not.
Being a model is the one part of my job description I haven't quite nailed yet.

Also, my black fur creates a problem when mommy tries to take pictures when I just want to play. Then she ends up with a literal 'shadow' on her phone screen and no cat.

So we decided to use this picture, because he is almost as good-looking as me anyway…
Wow! Talk about confidence! Since we were already off to such a great start, we decided to clarify his Twitter bio as well, where he boldly claims:
I wear a purple bow tie to work every day.
He replied:
LoL. You're not the first person to ask me that. A very pretty lady messaged me on Twitter saying "pics or it didn't happen". So I had to set the record straight.

We ordered four more ties after that – just in case we got more requests. I have a reputation to keep up here! I'm young, but I'm professional.
He even shared the link with us as proof.
So now that we know he's handsome, charming and dedicated to his career, we had to find out what his thoughts were on his corporate kitty competition. But this little fella doesn't seem to be bothered at all.
I'm not sure what Bossy actually does at Catbox. I suspect it's basically the same as Memrise.

Obviously, comic relief is my job too, but there's also real PR work to be done at AC. I have my social media to manage, newsletters to write, and journalists and organizations to reach out to.

I really want to make a difference. It's not easy, but that's my job. Anything for kibbles and catnip, right?
Who can disagree with that? But with work, charity, and catnip taking up so much of his time, is there any room left for a special someone?
The most special person in my life is my mom. She rescued me from the fate of many black cats in America and gave me purpose.

But… I do have a Twitter crush. Her name is Serena and she's an angel. 😻
It looks like everything is finally coming together for this uncommonly lucky black cat, but Shadow has even bigger goals ahead of him.
My biggest dream was to be adopted by someone who would care for me and be patient and kind.

With that accomplished, my next mission is to become an internet sensation. I want to make it to Buzzfeed and other lifestyle blogs and news sites.

It's not about the fame. But if I can get people to like me, I can get people to listen. My message is simple: black kitties can be loved too, and all animals should have rights.
We decided to close the interview out with the one question you all want to ask, but probably won't. How does he type and tweet with no opposable thumbs?
Shadow's reply will forever leave us guessing:
LoL. MAGIC! 😹
I guess we'll just have to take his word for it.
—
Well, there you have it guys. Crazy as it sounds, it looks like Alexis Chateau PR made quite the strategic decision, when they asked this 4-month old kitten to join their PR team. Shadow is available for email interviews and guest blogging.